In July we will be celebrating our congregation's 10th anniversary.
It seems like only yesterday the Lord spoke to me about a vision He had for Ashdod, that it would be a leader in Judea (Zech. 9:7)
Lord has done so many things over the years; we have seen amazing miracles, growth, transformations and lives touched. We've gained favor with local authorities as never before.


Through our evangelism and outreach projects we have seen so many miracles of salvation and healing.
Since April alone around 700 people stood up to receive the Lord when we made an altar call; that's 700 souls that stood before God and asked Him into their hearts.
Does it look like a small-scale local revival? It very well could be.
Now our job consist of making sure these people are planted in the local congregation, so they can grow in their walk with the Lord, and not lost along the way.

House is full! Praise the Lord!
Our congregation has grown so much, that we have reached our maximum capacity and starting from July we will be holding two main services back-to-back, so everybody has a chance to attend our weekly worship service.
Our regular congregational service has the attendance of 200 people, with about 100 children on top of that.
This is the first time in history of Ashdod that there's a Hebrew congregation, and one that has grown that way Beit Hallel has!
It's remarkable to see what God has done in our midst. Now we are continuously investing in the work of discipleship. We launched our bi-annual Alpha Course 3 weeks ago, and this weekend is a very powerful time in our program.
All the people taking part in the course are going for a weekend retreat, where they will have an encounter with the Holy Spirit. That is what the weekend is all about – to seek the Spirit of God.
Such large number of salvations is a miracle, but we need another miracle now – we need to invest in discipleship. The number of people who stand up to receive the Lord is not always the same as the number of people who become planted in a local congregation.
What makes a difference? Discipleship.
People who have heard the gospel for the first time, people who received the Lord, people who are still seeking – they need to be discipled and cared for as babies. Which is why we started our ALPHA course program, and we have been bringing together people every week for special time of fellowship and studies.
This weekend we had organized a special retreat by the Sea of Galilee to seek the spirit of God, and we took 20 non-believers. What an amazing time! The minute we started praying, the Holy Spirit came down so powerfully, that people began crying under the power of God, receiving healing and deliverance.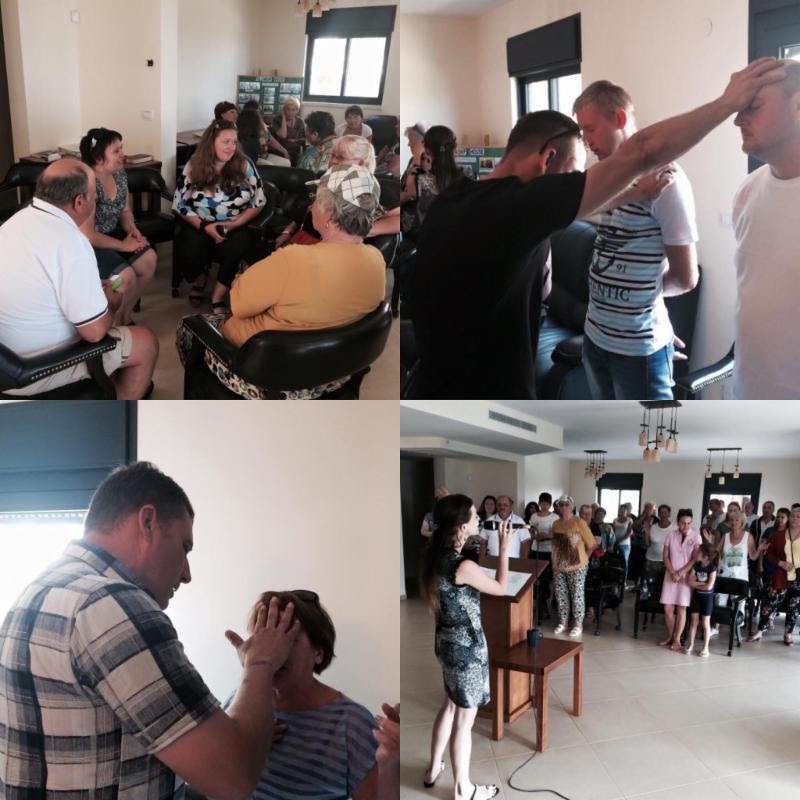 All 20 people that came with us received Jesus! It was such a powerful weekend, and these sort of discipleship projects are exactly what we need in order to make sure people enter in the congregational family, and not left by themselves after they are saved.
Prayer needs: 
Pray for our outreach, as well as discipleship projects such as ALPHA course – for their continuous fruitfulness.
We need more staff and resources for these training and discipleship projects. There's a large number of people that needs to be discipled after our evangelism projects, for that we need provision to increase our staff.
Pray for the people who have received the Lord, and those who are attending our ALPHA discipleship course, to be strengthened in their faith and firmly planted in the congregation.
Provision to sustain these projects.
We are also on Facebook!
Click the button below and join us on on our ministry page to receive daily updates, news, photos, videos and more.

---
Beit Hallel is a Messianic Jewish congregation in Ashdod, led by pastor Israel Pochtar, serving holocaust survivors and the poor and needy locally and throughout the nation of Israel, while building up the body of Messiah in the promised land of Israel.