Yesterday Israel remembered over 6 million Jews murdered during the Holocaust. This annual Day of Remembrance always stirs profound sentiments in all of us who share this horrific history as a nation, but it also brings up unbearable memories in those few last witnesses who actually lived to tell the story. We call them Holocaust survivors. Unfortunately it is a passing generation and shortly we will be left with none, only with their stories, testimonies, memories, photos, and naturally the mark they left on world history by simply surviving to tell the story.

Currently 200,000 Jews who survived the Holocaust live in Israel, that includes those who survived concentration camps, ghettos, pogroms; those who fled, hid, fought. It also includes those that were small children and miraculously managed to survive. Some of their stories are both miraculous and terrible.
When we speak with a precious old woman and the lines on her face indicate just how much she has lived on this earth, you can barely imagine that this woman was once a tiny little girl whose mother was set on fire right in front of her, and she had to see her body being piled with others. That little girl survived, lived a long life and eventually even made it back to her homeland of Israel. You would think her struggle ends here. It doesn't.
These are the kind of stories we hear every day in our outreach work with Holocaust Survivors. When you realize the magnitude of what the person in front of you lived through, and then you see they still struggle to survive in their old age, it breaks your heart. But it also gives a deeper sense of purpose and meaning to what we do.

Throughout our various humanitarian projects, our mission is clear: TO RESTORE DIGNITY TO HOLOCAUST SURVIVORS. As followers of Yeshua, our calling for compassion, kindness, love and restoration resonates strongly through our outreach work with these precious people.

This calling is something we always encourage our friends and partners to join hands with us in: "Comfort, comfort my people, says your God." (Isaiah 40:1)
There are an estimated 200,000 elderly Holocaust survivors living in Israel today, a quarter are whom are living in poverty.

Statistics shows that by the year 2025, about 102,000 are expected to still be alive, which amounts to half of the number of survivors still alive today, and all will be 85 years of age or older by then. By 2030, a quarter of the current number of Holocaust survivors, 53,000 in total, are estimated to still be alive, at which point they will be over 90 years of age. So in these statistics we see a picture painted of a dying generation that deserves to be honored, blessed, and to experience a dignified and better quality of life.
Imagine what an impact it would make on these dear survivors if believers from the nations were to extend a helping hand to them, showing them the love of Jesus in a practical and impacting way?

Our work with them extends beyond just food packets, or practical aid they so desperately need and are so grateful for. Our care ministry to the holocaust survivors also involves weekly house visits from our team, who check up on them, witness to them about the love of God, making sure they don't feel lonely or forgotten.
We also host international Christian teams who want to meet these precious people during their Israel trip, bring them a gift, drink tea with them and just embrace them.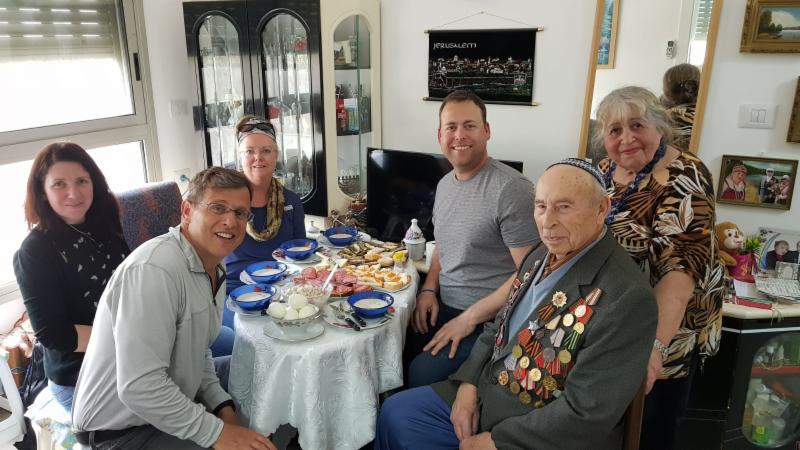 Our humanitarian relief includes various projects:
Monthly care packages that include non-perishable food items, personal hygiene products, clothing, and books
Pharmacy voucher cards for their medicinal needs
Excursions and day-trips, including meals, to places like the Dead Sea, to promote health, relaxation, and friendship between our staff and the survivors, as well as between the survivors themselves.
Another project we were so thankful to have been a part of a while back, was to help publish a book of powerful testimonies from some of the Holocaust Survivors that live in our city. With the generous help of some of our partners that book was translated into English, it's called "Bells of Memory", and contains powerful first hand accounts and stories that must never be forgotten. 
As a way to honor these precious people, you can receive this book for a gift of USD100. All gifts will go towards continuous support of Holocaust Survivors in Ashdod. (Please indicate while giving that you wish to receive this book)
If you feel stirred in your heart to partner with us in these projects of helping Holocaust Survivors, please see below how you can give, and make sure you indicate "For Holocaust Survivors" 
We are forever grateful for your faithful, loving and generous support, whether in prayer or sowing, it creates a big impact that advances the Kingdom of God in the Land of Israel these days when this nation needs it more than ever.
Thank you for being a blessing to the nation of Israel!
Genesis 12:3 – "I will bless those who bless you"
Much love and blessings,
Pastor Israel Pochtar 
---
Beit Hallel is a Messianic Jewish congregation in Ashdod, led by pastor Israel Pochtar, serving holocaust survivors and the poor and needy locally and throughout the nation of Israel, while building up the body of Messiah in the promised land of Israel.